Scott R. McMillen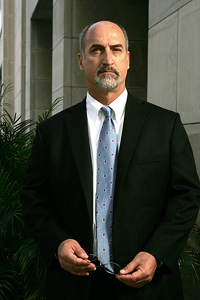 Scott R. McMillen, Attorney
Mr. McMillen received his Bachelor of Science degree in Government from Florida State University in 1976, and his Doctor of Law degree from Emory University in 1979. He has been a member of The Florida Bar (since 1980) and the State Bar of Georgia (since 1979).
He is rated "AV Preeminent – 5.0 out of 5" by the widely referred to Martindale-Hubbell Lawyer Directory.  According to Martindale, this certification is a significant rating accomplishment – a testament to the fact that Mr. McMillen's peers rank him at the highest level of professional excellence and as having very high ethical standards. It is the highest score given.  He has also been featured in Leading American Attorneys in the field of medical malpractice.
Mr. McMillen is involved in numerous bar association activities including: The Florida Bar; The State Bar of Georgia;The Orange County Bar Association (President 1999-2000; Executive Council 1993-96,  Medical-Legal Committee Chairman 1991, 1993);The Legal Aid Society (President 1996-97, Board of Trustees, 1993-96).  He has served as a member and Chairman of the Judicial Nominating Commission for Florida's Fifth District Court of Appeal.  In 2006 he was the President of the Central Florida Trial Lawyers Association.  He is a member of The American Bar Association (Fellow of the American Bar Association Foundation); The Florida Bar Board of Governors, 2008-Present; Technology Task Force 2002; Attorney Grievance Panel 1994-1996 – Chair 1996;Trial Lawyers Section, Health Law Section; The Georgia Trial Lawyers Association; Florida Justice Association (f/k/a Academy of Florida Trial Lawyers) Medical Malpractice Committee (Chairman, 1997-98); the American Association for Justice (f/k/a Association of Trial Lawyers of America) Birth Trauma Litigation Group, HMO Litigation Group, and Laparoscopic Surgery Litigation Group.
Mr. McMillen is a frequent lecturer to other lawyers and to the medical profession about medical malpractice issues. He currently serves as the author of the monthly medical malpractice law column in the Journal of the Academy of Florida Trial Lawyers .  Other important publications include   "The Overlooked Emergency Room Cause of Action" Vol. LXXI, No. 10 The Florida Bar Journal (Nov. 1997), and "Medical Malpractice Statute of Limitations" Vol. LXX, No. 2 The Florida Bar Journal (Feb. 1996).  With his attorney daughter, Allison McMillen, he co-authored a chapter in the Florida Medical Malpractice Handbook, Second Edition, published by the Florida Bar in 2009.








FTCA Attorneys Serving All of Florida and Georgia Free Consultation
No Fee or Expenses Unless Recovery is Obtained
ORLANDO
608 E. Central Blvd.
Orlando, Florida 32801
Phone: (407) 843-0126
TAMPA BAY
2202 North West Shore Blvd.
Suite 200
Tampa, Florida 33607
Phone: 813-639-7644
JACKSONVILLE
10151 Deerwood Park Blvd.
Bld. 200, Suite 250
Jacksonville, Florida 32256
Phone: 904-371-3518
ATLANTA
1230 Peachtree Street, NE
19th Floor
Atlanta, GA 30309
Phone: 404-942-3800
Toll Free: 1-800-974-4929
To serve you better we have opened satellite offices in several major cities. We use these offices to conduct client interviews, take depositions, and as meeting rooms when we have trials in these cities. When advantageous to you, we will also associate with other lawyers and law firms in some areas of the state to serve you better. If we do associate with other lawyers on your case it will be at no additional attorney fee or expense to you.
This site contains only general background information and is not intended to constitute specific legal advice or establish an attorney/client relationship. If you think you may have an FTCA case you should promptly contact a lawyer with experience in handling FTCA cases.
Copyright 1997-2016 - McMillen Law Firm, A Professional Association